Hola: Free Proxy Unblocker App 1.179.117
Hola Free Proxy Unblocker is a free and fast tool for accessing internet content or sites that are banned in your country. Sometimes content gets banned due to sensitive behavior which might raise the instability of well-going situations. Several times the people have to remain unaware about a few informative and educating stuff due to some studio choices. Many content and sites are also banned in nations thinking it may result in inefficiency of work and distractions among the citizens, due to which the more useful and reliable content can't be accessed by the country people.
Hola has increased its reach up to 190 countries have given access to multiple video platforms like Netflix, Hulu, Amazon Prime Video, YouTube and HBO, and many more. So you can enjoy watching series and episodes that are not available in your country. While on the contrary, NordVPN has reached up to 61 countries.
How does Hola Free Proxy Unblocker work?
Hola Free Proxy Unblocker can be downloaded as an app on your phone no matter either it is Android or iOS, it can also be installed as an extension on your desktop or laptop either it is Windows or macOS.
Hola Free VPN is a freemium service, so everyone on the planet having an internet connection can use it on their phone or computer. This service leads to having boundless users and customers on the other hand. This large collection of users is when put on to peer-to-peer connection, it leads to having numerous VPNs at a time.
So when you are using this Free VPN app, you are using another user's IP address and that person is using your IP address or someone else's IP address. But when you are a free user, you are just a part of a P2P connection and do not participate in resource contribution.
With the help of data compression, Hola Free VPN makes surfing fast, which means you can download stuff easily and save time. But at the time of watching content live, Hola compresses the video quality from HD to SD.
System Requirements
| | |
| --- | --- |
| Operating System | Windows 7, 8, 10 |
| Processor | Intel or AMD Dual-Core Processor 3 GHz |
| Memory | 512 MB RAM |
| Storage Space | 512 MB Hard Disk Space |
| Video Graphics | Intel GMA Graphics or AMD equivalent |
Technical Specification
| | |
| --- | --- |
| Software Name | Hola Software For Windows Latest Version |
| File Size | 1.8 MB |
| Languages | English, Italian, French, Spanish, Polish, Chinese, German, Japanese |
| License | Free |
| Developer | Hola VPN Team |
Hola Free Proxy Unblocker Features for PC and App
Fast Operation
As Hola uses data compression technology, your data processing speed increases and the process takes less time.
Identity Secrecy
Hola uses Proxy for routing user traffic through remote servers, so in that sense, the real IP address of the user is kept hidden from the government. While in use your IP address is also hidden from your geo-location.
Free VPN
Hola Free Proxy Unblocker is free to use because it provides free operation in exchange for your IP address peer connection.
Compatibility
It is released as an extension for computers, no matter what Operating System it is on or what browser it is. Hola app is available on both iPhone and Android.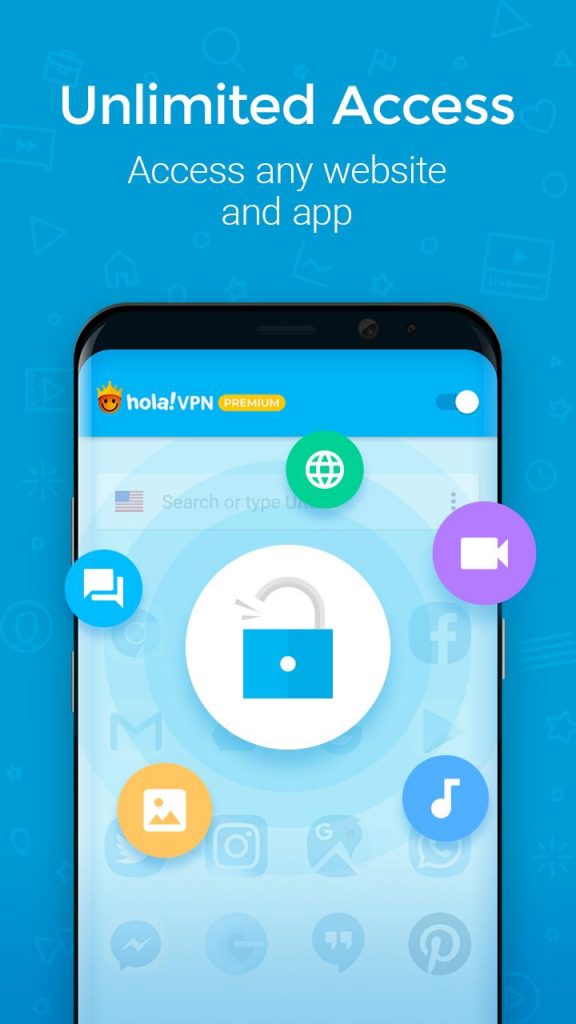 Pros and Cons
| | |
| --- | --- |
| Pros | Cons |
| Web surfing is fast | Streaming is slow |
| Can access data from other countries | Exchanges IP addresses |
| It is available on both phones and computer | Zero Servers |
| Ads get removed | |
Is Hola Free Proxy Unblocker safe?
There is a great debate regarding the security of Hola Free VPN, It shows the IP address exchange as a patented technology while some Internet users don't approve of this technique as identity friendly. So we suggest you use the Hola app accordingly not regularly.
How Hola Earns?
It earns by Plus Subscription of Hola, In Plus subscription, your IP address is granted to their Subscribers.
Conclusion
If we talk about the alternative for Hola Free Proxy Unblocker, there is a solid competitor named NordVPN which gives sheer competition to Hola making it kneel down before him. It's just Hola is free that counters the brutal quality properties of NordVPN. Otherwise, every VPN app has Anonymity, fast downloads, threat security.