IrfanView For Windows 4.56
IrfanView 64-bit is one of the most popular Image viewer for windows, created from the ground up to have an incredibly small processing footprint and enable users to access a wide array of tools that will make not only novices and collectors happy, but also people who want to easily get access to tools that can perform great tasks such as batch conversion, image manipulation (crop, rotate, change the format, size, change color range, optimize colors) and even simple image editor (drawing, adding text, etc). Using external plugins users can greatly expand the capability of it, including the ability to playback audio and video files.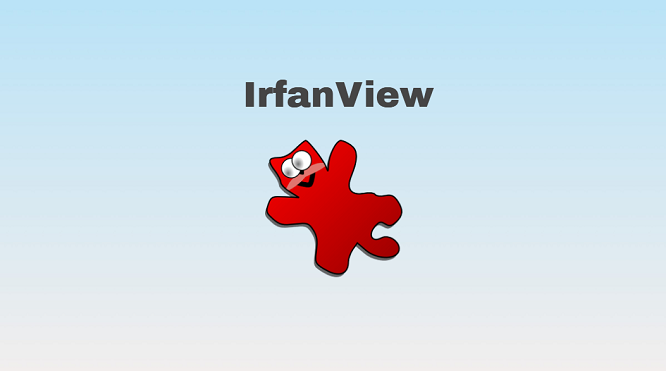 The picture that you took with your camera is the imagination you want to create with reality. – Scott Lorenzo
IrfanView software for Windows supports ALL popular image formats, it can create screensavers, support for TWAIN devices such as scanners, it can take screenshots, preview text files, animated gifs, browse image libraries by their thumbnails, and much more.
System Requirements
| | |
| --- | --- |
| Operating System | Windows 7, Windows 8, Windows 10 |
| Memory | 1 GB RAM |
Technical Specification
| | |
| --- | --- |
| Software Name | IrfanView Software For Windows V 4.56 |
| File Size | 3.72 MB |
| Language | Multi-language support |
| License | Free |
| Developer | Irfan Skiljan |
Installing this app might seem a bit difficult because it prompts the user to choose the files they want the application to handle, so in case they just wish to use it as the backup solution, it becomes necessary to uncheck them all. Also, care needs to be taken when dealing with the offered toolbar unrelated to the software's functionality.
At first glance, the interface seems simplistic, leaving plenty of room for the actual displayed image and only presenting a few buttons for the basic actions. Nonetheless, the menus fully compensate for this simple appearance, since each of them comes with a large array of options.
What is IrfanView?
It is designed to be simple for beginners and powerful for professionals. It seeks to create unique, new, and interesting features, unlike some other graphic viewers, whose whole "creativity" is based on feature cloning, stealing of ideas and whole dialogs from ACDSee and/or IrfanView! This tool was the first Windows graphic viewer worldwide with Multiple (animated) GIF support. One of the first graphic viewers worldwide with Multipage TIF support and Multiple ICO support.
IrfanView Image Viewer For Windows Features
Support Multiple Formats
Along with, some most common graphic file formats, the app enables you to view these supported formats in 12 digital camera RAW formats, several gaming formats, fax files, and much more. The app provides 21 formats for saving files, as well as a wonderful Batch Conversion is for converting a whole folder of images into another format. Some most popular formats are as below
BMP, DIB, JPG, JPEG, PSD, PDF, GIF, TTF, TXT, ANI, CUR, CLR, CLP, DDS, CAM, MAC, PICT, QTIF, MP4, WAD, WBMP, RAS, SUN, SFF, PPM, etc. And WAV, AVI, WMA, WMV, MPG, MPEG, MP3 MID, and a lot of others are for video and audio files.
Use of Painting Tools
The app is least capable of handling painting tools, but you can be able to annotate any image via inserting text captions, draw basic shapes, change colors, and a lot more. Additionally, several manipulating tools such as flipping, rotating, resizing, sharpening, coloring, and making corrections. The app has specific effects tools like embossing, oil painting, sepia, and much more.
Compatible with Windows
With various compatibility with all types of devices, the special compatibility with all types of Windows like Windows 10, Windows 8.1, Windows 7, are mainly operating systems to run the app very smoothly and reliably. In addition, it requires a 32-bit and 64-bit setup. Mobile users will have to wait a little bit as the app is not currently available for mobile devices.
Slideshow Feature
Joining several images for creating slideshows as well as save it to EXE or SCR file, and share it with your contacts.
Easy-to-use Interface
In fact, the style of interface is a combination of old and new, giving some positive as well as some negative impacts. The simplistic with few buttons and menus are with unlimited options. Use the options and edit the image through rotating, applying the watermark, tweaking the filters, inserting brightness, modifying the colors, as well as change the canvas size, and creating frames for pictures.
Built-in Plugins
The open-source application offers hundreds of plugins and skins for increasing as well as expanding the app's functions. Whenever you need design enhancements and you can search multiple plugins residing in the app or install them with a single click.
Pros and Cons Of IrfanView Image Viewer For Windows
| | |
| --- | --- |
| Pros | Cons |
| Fast, lots of features, many plug-ins, less than 2 MB on disk | Simplistic and a bit less manageable than main competitors |
FAQ
Q: Does IrfanView contain Spyware or Viruses, etc.?
A: No. If your anti-virus program reports a virus or spyware in this photo viewer app downloaded from the official homepages, you should either update the anti-virus program or use a better one
Q: Is IrfanView free?
A: It is provided as freeware, but only for private, non-commercial use (that means at home).
Q: How to extract images from the EXE Slideshow?
A: Start the EXE and press F1 for help. Use E hotkey for extraction.
Conclusion
IrfanView is one of the best photo viewer app one could find when it comes to handling photos, editing them, taking screenshots, viewing multi-page images, making panoramas, or creating slideshows. And, probably the most important thing, it is free for personal use, did not burden the computer's performance, and did not hang, freeze or crash.