Tencent Gaming Buddy 11.0.16777.224
Tencent Gaming Buddy Filehippo is the newest release of Tencent that comes with a powerful AOW Engine for the PUBG mobile that lets you play arguably the most popular battle royale, online multiplayer mobile game of all time on your PC. PUBG Mobile has spontaneously gathered a lot of attention. It was the most downloaded game in the first half of 2018, Most of it is because of its high profile name and awesome gameplay on mobile devices.
PUBG Mobile (PUBGM) is an online multiplayer battle royale game developed by Tencent Games with the most intense free-to-play multiplayer action. It is a player versus player shooter game in which up to one hundred players fight in a battle royale, a type of large-scale last man standing deathmatch where players fight to remain the last alive. Survival is key and the last one standing wins. Be the one, surviving at the end with a big-screen experience.
But as we know, shooters often control poorly on touchscreens. That is one of the reasons why many players have diverted in using Android emulator to get their PUBG Mobile experience on PC.
If you're one of the 600 million PUBG Mobile players around the world and happen to be looking for the best PUBG Mobile emulator out there, look no further. Tencent Gaming Buddy is the best way to play PUBG Mobile on PC.
The main reason, of course, would be to take advantage of the superior mouse and keyboard controls. This is why Tencent has released an in-house emulator. Tencent has already found a solution that will split the users depending upon emulator users and non-emulator users. TGB will only match you against other players using the emulator.
PUBG and PUBG Mobile
This might seem confusing since PUBG Mobile is essentially a mobile version of the original PC game in the first place. However, there are a number of differences between PUBG and PUBG Mobile that make the two games unique.
The most obvious difference is the price. PUBG Mobile is free, removing the greatest barrier of entry for most players around the world. With Tencent Gaming Buddy you can get the best of both worlds.
Although they are essentially the same game, PUBG Mobile on Tencent Gaming Buddy differs slightly from the true mobile experience.
The biggest difference is the player base. Since PUBG auto-detects emulator players, you are going to be matched with other mouse-and-keyboard using players. Most of these players are a step above casual, so expect a higher skill gap than in mobile matchmaking.
Another unfortunate side effect is the prevalence of hackers. Tencent is doing its best to combat hacking, but there seems to be a higher number of hackers in the emulator than the mobile version. Not that they aren't plentiful in both versions at higher ranks.
Other than that, it's mostly the same. You'll still find screaming children and people speaking different languages, but at least now you have the option to mute individual players.
There are also many disconnected players in each game, possibly after needing to abandon ship with Tencent Gaming Buddy's built-in boss key. This problem lessens as you move up in the ranks.
Screenshots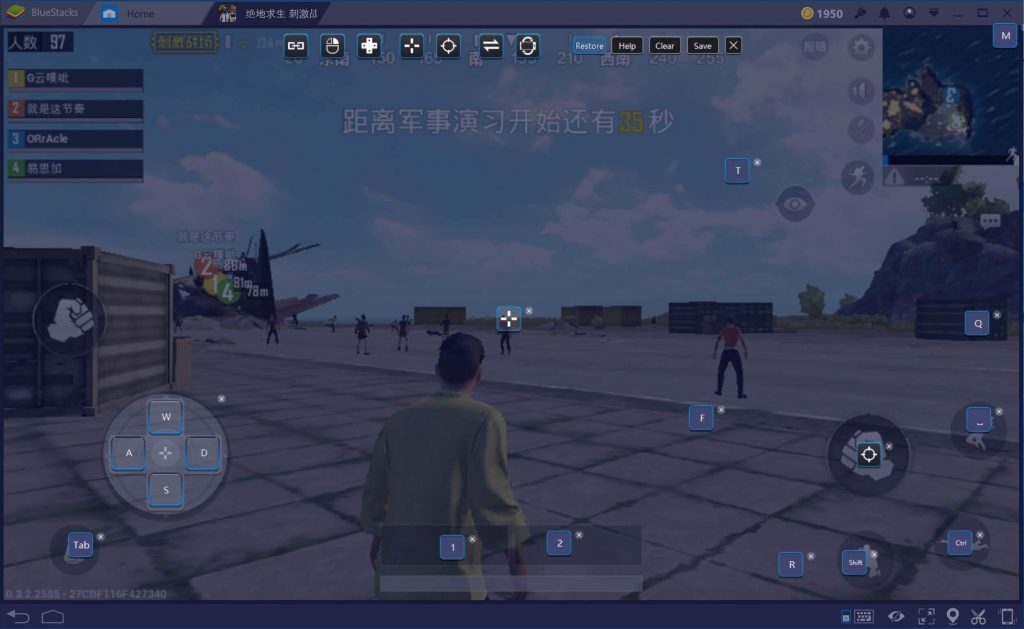 Since the latest Update, 0.11.5 is out now and within a month new season pass is going to arrive which I am sure you all are excited for. As you know, TGB is the Best PUBG Mobile Emulator for playing PUBG Mobile on PC. If for some reason you are unable to Update Gaming Buddy (PUBG Mobile Emulator) to the latest version, this article will help you to do it right now.
This article contains methods to Update TGB to the Latest Version of PUBG Mobile.
Update: Recently PUBG Mobile is updated to 11.0.16777.224 Version. It features the most awaited Zombie mode along with new weapons and fixes.
Tencent Gaming Buddy filehippo Technical Specifications
| | |
| --- | --- |
| Software Full Name | Tencent Gaming Buddy V 11.0.16777.224 |
| Setup File Name | Tencent-Gaming-Buddy-1-0-5077-123.exe |
| Full Setup Size | 9.23 MB |
| Compatibility | 64 Bit (x64) |
| Developers | Tencent Games |
Tencent Gaming Buddy filehippo Benefits
It may look like the usual Android emulator on PC. But, this emulator has its own superiorities which are not available on other similar applications. What are those? Here are those superiorities of TGB:
Light Specification: To run Tencent Gaming Buddy, you don't need a PC with high-end specifications. You only need a Dual-Core processor, 4GB RAM at least, 1GB NVIDIA/AMD graphics card, and saving capacity for minimal 3GB, you can run this emulator;
Download and Install With Ease: You just need to download Tencent Gaming Buddy Emulator on their official site. After downloading, run it, and follow the steps. To install games, you just need to click on it
Complete Features: Features on Tencent Gaming Buddy PUBG has fulfilled all your needs. Starting from the processor and ram setting, macro controller feature, full-screen mode, as well as recording your gameplay for streaming purposes.
Which Games Can You Play in Tencent Gaming Buddy filehippo?
Even though this emulator was built by Tencent doesn't mean this emulator only play their own games. Actually you can play other games smoothly with Tencent Gaming Buddy Emulator! Those games you can play using this emulator are Honkai Impact 3rd, Mobile Legends, Ragnarok M: Eternal Love, Clash Royale, and others.
So that's three superiorities from Tencent Gaming Buddy. What do you think about this emulator? Are you interested to try this one? If yes, you can download it in the link below!
>> Tencent Gaming Buddy filehippo Download 
This thing can be an alternative for you to play PUBG PC but currently still saving money to buy a new PC, mouse, and best headset to play the game optimally! Follow Dunia Games for more information about video games!
Conclusion: If you're looking for a way to play PUBG Mobile on your PC, Tencent Gaming Buddy is the way to go. There are a number of other Android emulators that allow you to play PUBG Mobile, but none of them offer the same great PUBG performance as Tencent Gaming Buddy.