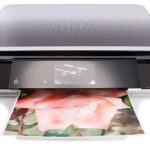 The HP Envy 100 e-All-in-One is a multifunction color inkjet printer that is stylish and quiet — it's designed to fit in your living room. We would still prefer to keep it stashed in a home office, but for a multifunction printer, it has one of the best designs we've seen. It's not the best A4 photo printer we've tested due to its use of a tri-color ink cartridge, but when printing text it does an acceptable job. Its low-noise design means it prints slowly in normal quality modes, though. A swathe of extra features and Internet connectivity means this color printer outperforms its competitors by adding extra value.
Design and Features
The Envy 100, clad in black and silver-colored trim, measures 16.8 by 13.2 by 4 inches and weighs 17 pounds. Its lid has a reflective finish, decorated with an intricate dot pattern. The downside is that the cover acts as a fingerprint magnet, so if you use the scanner/copier frequently, you may spend undue time in wiping it down. A 3.5-inch touch LCD screen is centered in the tilt-up front panel.
The Envy 100 can print, copy, and scan, as well as scan to e-mail. It can run HP's Web apps (which are displayed carousel-style on the front LCD). It has ePrint capabilities: You can e-mail files as attachments to a unique address that HP assigns to the printer, and the eStation will print out the e-mail and files. The Envy has a port for a USB thumb drive as well as a multi-format card reader.
The Envy 100 can connect via Wi-Fi or USB. We ran our speed tests over a USB connection to a PC running Windows Vista, and then I switched to Wi-Fi for some ad-hoc testing. The Envy is one of a select group of HP printers that can print from iPhones, iPads, and iPods touch over a Wi-Fi connection using Apple's AirPrint feature built into iOS 4.2—it printed without problem from iPhone.
The Envy's standard paper tray is limited to 80 sheets, which effectively restricts its use to home use. It does come with an automatic document feeder, for printing on both sides of a sheet of paper. The printer employs two ink cartridges, one black, and one multi-color.
Speed and Quality
The Envy 100 printed the latest version of our business applications suite in an unimpressive 7 minutes 32 seconds. The Epson Artisan 725 Arctic Edition ($200 list, 4 stars) and the HP Photosmart Premium e-All-in-one ($199.99 direct, 4 stars), both MFPs geared to home use, finished the same series of tests in 3:49 and 4:03, respectively. The Envy averaged 1:10 in printing 4-by-6 photos, a speed typical in its class.
Photo quality was slightly sub-par; at arm's length, prints could pass for drugstore quality but were more problematic when viewed close up. The most notable issues were dithering, the breakup of solid areas in several prints into subtle dot patterns, and posterization—sudden shifts in color in areas where there should have been a subtle gradient. Text quality was average, fine for schoolwork or internal business documents, but not up to documents like resumes where presentation is important. Graphics were typical of an inkjet, good enough for school or general business use, including PowerPoint handouts.
Look at the Inkjet Printer Performance test chart here as under:
Conclusion: The HP ENVY 100 e-All-in-One is a sleek and handsome looked printer that add a touch of elegance to a household, and it provides an abundant feature set. Its speed and picture quality could be better, but it will fit the bill for many style-conscious consumers. For $50 less, the HP Photosmart Premium e-All-in-One is faster and has a larger touch screen (though it lacks some of the connection options), while the Epson Artisan 725 Arctic Edition showed sizzling speed, prints gorgeous photos, and has a wealth of MFP features geared towards home use.
You may download drivers and software from HP website