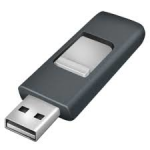 Rufus Create Bootable USB Drive Software 3.13
Rufus is a small Open Source utility that helps quickly format and creates bootable USB flash drives, such as USB keys/pen drives, memory sticks, etc. It can be especially useful if you need to create USB installation media from bootable ISOs (Windows, Linux, UEFI, etc.), need to work on a system without an operating system, you need to flash a BIOS or other firmware from DOS or if you just want to run a low-level utility. It will also record all activity which can then be saved to a LOG file.
It comes in a very user-friendly interface that the majority of users will find to be quite like that of the Windows Format panel. It allows fast selection of the desired device, partition scheme, and the particular system type, file system type (exFAT, FAT32, NTFS, UDF), the cluster size, as well as the new volume label. From the drop-down menu, connected devices are detected and selected easily.
For instance, it's about twice as fast as UNetbootin, Universal USB Installer or Windows 7 USB download tool, on the creation of a Windows 7 USB installation drive from an ISO. It is also marginally faster on the creation of Linux bootable USB from ISOs.
System Requirements
| | |
| --- | --- |
| Operating System | Windows XP, Vista, 7, 8, 10 |
| Required Information | Minimum 8 GB USB Flash Drive required |
Technical Specification
| | |
| --- | --- |
| Software Name | Rufus Software For Windows V 3.13 |
| File Size | 1.1 MB |
| Languages | English, Italian, French, Spanish, Polish, Chinese, German, Japanese |
| License | Free Trial |
| Developer | Pete Batard |
The software is now integrated with Fido to download Windows 10 and 8.1 ISOs from Microsoft servers.
Why you need Rufus?
Physical changes of devices accompanied by the presence or disappearance of certain component functions are in line with the growing presence of existing software in order to adapt to these changes. Initially, the installation of the operating system can only be done via a bootable CD or DVD because of the unknown bootable USB flash drive at the time. But then, along with its development, people begin to know the installation of the operating system using a bootable USB flash drive. Now there is much software that is installed on the computer by using a bootable USB flash drive.
The use of bootable USB flash drives has begun to shift the bootable role of CD or DVD as a medium for installing the software. Rufus as bootable USB flash drives are not only required for devices that do not have optical drives like netbooks, but also have become an option because it has advantages such as faster software installation, smaller dimensions so it is more practical to carry and software size is also larger, not limited to only 4.7 GB on DVD. Today many software sales are licensed only, while the software itself is available for download through its official website in ISO format.
Rufus Filehippo Main Features
Multitask utility
Along with USB flash drives, Rufus Filehippo may use to make different kinds of applications like USB keys, memory sticks, pen drives and other ways of transferring and storing information. Individuals who haven't used applications of this kind are very likely to discover that it requires a while to find out it and also the shortage of aid files means that it's a great idea to get in touch with a tech-savvy buddy. But as soon as the skills are master USBs of all sorts can produce in next to no time.
Bootable Drives
Individuals that are interested in finding a totally free approach to produce their very own USB bootable drives should be certain they take some opportunity to place Rufus through its paces. But it ought to notice that the program is compatible with Windows and anybody who's using a different sort of operating system will have to start looking for a different program to conduct this job. It's in boot manager/disk class and can be available to all applications users as a free download.
Burning Program
Establishing an ISO image from a physical disk or by a set of files is quite simple to accomplish however, through using a CD burning program, like the publicly accessible CDBurnerXP or even BurnAware.
Block Checker
It may check the device for bad blocks and permits to specify a customized volume tag. It contains a log file with a background of actions done that may save into a text file on the user's background computer.
Prevent from Formatting by error
It's smart enough to discover that the USB drives; this can allow you to prevent the formatting by the error of a Windows partition. It is possible to alter the title of this USB drive.
Supported ISO
It also has an extensive list of supported ISOs, to name a few: all recent Microsoft Windows OS versions (Windows Server 2016, Windows 10, Windows 8.1, Windows 8, Windows 7, Windows Vista, Windows XP from SP2+), popular Linux distro (Ubuntu, CentOS, Fedora, Debian etc.), custom programs (GParted, Parted Magic, Hiren's Boot CD) and even some newer operating systems such as ReactOS.
All versions of Rufus since v1.1.0 allow the creation of a bootable USB from an ISO image (.iso)
Creating an ISO image from a physical disc or from a set of files is very easy to do, however, through the use of a CD burning application, such as Nero Burning ROM, Ashampoo Burning Studio.
Notes on DOS support
If you create a DOS bootable drive and use a non-US keyboard, Rufus Filehippo will attempt to select a keyboard layout according to the locale of your system. In that case, FreeDOS, which is the default selection, is recommended over MS-DOS, as it supports more keyboard layouts.
Speed comparison between Rufus and other applications
The following tests were carried out on a Windows 7 x64 Core 2 duo/4 GB RAM platform, with a USB 3.0 controller and a 16 GB USB 3.0 ADATA S102 flash drive.
Windows 7 x64: en_windows_7_ultimate_with_sp1_x64_dvd_618240.iso
| | |
| --- | --- |
| Windows 7 USB/DVD Download Tool v1.0.30 | 00:08:10 |
| Universal USB Installer v1.8.7.5 | 00:07:10 |
| UNetbootin v1.1.1.1 | 00:06:20 |
| RMPrepUSB v2.1.638 | 00:04:10 |
| WiNToBootic v1.2 | 00:03:35 |
| Rufus v1.1.1 | 00:03:25 |
ubuntu 11.10 x86: ubuntu-11.10-desktop-i386.iso
| | |
| --- | --- |
| UNetbootin v1.1.1.1 | 00:01:45 |
| RMPrepUSB v2.1.638 | 00:01:35 |
| Universal USB Installer v1.8.7.5 | 00:01:20 |
| Rufus v1.1.1 | 00:01:15 |