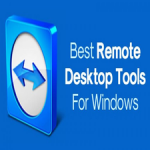 Remote Desktop software lets one computer view or controls another computer, not merely across a network, but from anywhere in the world. You might use it to log into your customers' computers and show them how to run a program or sort out their technical troubles. Or you can even use it to invite friends or clients to view your desktop while you run a demo for them. You can use the screen as a temporary whiteboard, drawing lines and circles that help friends or clients understand what you're doing on your machine or theirs.
Remote access apps also let you transfer files between two machines without using email or file-sharing services. You can use remote access to print a file stored on someone else's machine on a printer connected to your own machine. Your tech-challenged relatives can use remote access software to give you access to their machine so you can repair their mistakes or clear out malware. It's far, far easier to grab the wheel yourself than it is to try and talk someone through the process of troubleshooting their PC. And your high-tech colleagues can use it to collaborate on complex projects in real-time, complete with chat via text or, with some apps, voices.
Here's our list of 11 such tool. We have deliberately chosen a few that are most useful to IT admins in businesses, as well as a few that are most useful to individual users and one-person companies.
1. TeamViewer
TeamViewer remote desktop software. It allows you to connect to multiple workstations remotely. It helps you to enhance remote control performance with GPU for hardware-accelerated image processing.
Features:
Allows you to pass the control from one person to person
Easy & Secure Remote Desktop Access
Support Augmented reality
You can include multiple parties in connection.
Helps you to drag and drop files from one computer to another
Download link: Teamviewer Remote Desktop
2. Microsoft Remote Desktop
Microsoft Remote Desktop helps you to connect to a remote PC or virtual apps and desktops made available by your admin. This app helps you to produce no matter where you are.
Features:
This tool helps you to connect to machines remotely through a remote desktop gateway on a secure connection.
The tool can be installed up to ten devices with Windows 8, Windows 10 or higher, and Xbox One.
Easy Screen capture and viewing
Download link: https://www.microsoft.com/en-in/download/details.aspx?id=50042
3. Chrome Remote Desktop
Features:
Cust down the cost and save your time on traveling,
Allows your friends and family to solve problems with their computers remotely,
Helps you to ensure that nothing goes wrong is happening on your networks when you are away.
Download link: https://www.tightvnc.com/
Chrome Remote Desktop, not a full-feature tool. It is an extension for the Google Chrome web browser. This tool allows you to set up a computer for remote access from any other computer running on Google Chrome browser.
Features:
Let's you remote into the computer even when the user isn't logged in
Offers multi-monitor support
Works equally effectively for unattended and on-demand remote access
Allows you remote into the computer via an app
Download link: https://remotedesktop.google.com/
4. AnyDesk
AnyDesk remote desktop is a software that you can run portably or install like a regular program. This remote desktop tool helps you to ensures secure remote desktop connections for IT professionals.
Features:
Supports audio and file transfer
Helps you to record the remote session
Connections can be configured to favor quality or speed.
Automatically update to new software versions.
Works on Linux, Windows, and macOS
Download link: AnyDesk Remote Desktop
5. Splashtop
Features:
Access mobile devices (Android + iOS) with SOS.
SOS custom branding.
Show all monitors.
Desktop sharing.
View RDP sessions.
Remote reboot to SAFE mode.
UI + usability upgrade, in-session toolbar (for blank-screen, lock keyboard/mouse and more)
Download link: https://www.splashtop.com
With more than 15 million users across the globe, Splashtop is another one of our best remote desktop tools. What makes this remote tool different from the rest is its amazing screen refresh rate and audio/video streaming capabilities. If you're associated with the education industry, there is a special version that can bring your classroom alive, and there are other separate options for personal, business and enterprise use.
6. LogMein
LogMeIn Rescue is an ideal tool for those who started a business that needs to continues support from all over the world. It is especially helpful for places where problems could occur at any time.
Features:
Helps you to keep your work at your fingertips
Allows easy access to your work and store, share, and collaborate across all of your devices.
Store, share and collaborate on files with a single click.
You can share the screen with anyone to openly collaborate.
Secure remote access to your PC from your desktop, browser, desktop, or device
Download link: LogMeIn Download
7. Mikogo
Mikogo is screen sharing remote desktop software. It is a useful tool for facilitating online sales demos, web conferences, and training of individuals and groups alike. The tool is available in three versions like Standard, Professional and team.
Features:
Share your desktop, documents, or application windows with up to 25 meeting participants in real-time.
View meetings with the iOS or Android apps, or join via a mobile browser.
It enhances communication and phone calls by allowing users to collaborate and view the same information in real-time.
Helps you to assist your customers with remote keyboard and mouse control
Set up your meetings in advance with the Schedule.
Download link: https://www.mikogo.com
8. Radmin
Radmin is a reliable remote support software for IT professionals. The tool offers instant tech support and gets secure remote access to computers in the network.
Features:
Offers internal IT support across your organization
Allows you to access unattended computers and perform server maintenance remotely
Radmin's offers security capabilities are built-in from the ground up.
Allows you to manage remote controlling even on 3g connections
Download link: http://www.radmin.com/
9. pcAnywhere
Symantec pcAnywhere is the single bestselling remote computer access software available today. This software, like most types of remote access software, allows a user to remotely access and control another computer over the internet. With multiple licenses, a user can even install the client and host on the same computer, so that one can control and transfer files between various computers.
Features:
pcAnywhere Built-in encryption connections are always done over a 256-bit encrypted connection
pcAnywhere allows users to transfer files in both directions. While this seems to be a very simple feature
pcAnywhere allows a user to have an unlimited number of sessions going at once. The only limitation on the number of sessions is the amount of bandwidth that the consumer is using.
An excellent feature of pcAnywhere is that there is a client for all major operating systems, including Windows, Mac OS, and Linux, as well as Blackberry and Windows Mobile.
Download link: pcanywhere
10. GoToMyPC

The GoToMyPC remote desktop is another free tool that gives you the freedom of remote access from anywhere. If you're using mobile or tablet to carry out your business activities and wish to connect to work from any corner of the world or from home, GoToMyPC is a perfect solution for you. It also promises powerful security through data encryption using AES, and the best part is that it is extremely easy to install and start using.
Download link: GoToMyPc
Features:
Download GoToMyPC and launch, install and configure without a restart.
Easily transfer a file between computers. No more emailing files to yourself.
Hear your music or voicemail on the PC you are accessing. Available on PC only.
Cut, copy and paste between your connected computers.
View the full displays of all monitors connected to your computer.
11. TightVNC
Features:
Allows you to pass the control from one person to person
Easy & Secure Remote Desktop Access
Support Augmented reality
You can include multiple parties in connection.
Helps you to drag and drop files from one computer to another
Download link: https://www.tightvnc.com/
TightVNC is an open-source remote desktop control software package. It allows you to see the desktop of a remote machine and control it with your local mouse and keyboard.
So, I hope the above list may help you to find the best remote desktop tool for your personal or business utility.
Enjoy!