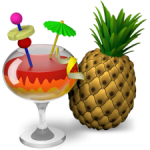 Handbrake Video Converter Software 1.4.0
HandBrake Video Converter is a free and open-source tool for converting video files from nearly any format to a selection of modern, widely supported codecs. It enables anyone to easily prepare their camera videos to be played on a wide variety of devices, including all versions of iPhones, iPads, Apple TVs, Android phones, Android tablets and more. Of course, the app fully supports one of the most popular video conversion processes of all time -the transfer of movies from your DVDs to your hard drive by converting them to files in the MPEG-4 format. You can apply many great video filters (grayscale, detelecine, Edgecomb, deinterlace, denoise, deblock), as well as set the video codec, quality and framerate, audio codec, mixdown, sample frequency rate and bitrate.
HandBrake was originally created in 2003 by Eric Petit who made this app exclusively for the short-lived BeOS operating system but was shortly after ported to Windows, MacOS, and Linux (Ubuntu). It continued being active on the development of the app until 2006 when he left and enabled its community to continue working on updates (originally made under the name "MediaFork", but later renamed back to Handbrake).
Today, after so many years and a turbulent state of development, Handbrake still represents one of the most popular video conversion programs in the market, with support for many features that make the conversion process easy and intuitive. Even still, Handbrake remains to be 100% free and with regular updates continues to expand its capacity to work with all currently popular video and audio codecs on the market.
HandBrake Video Converter Features
Built-in Device Presets
Get started with HandBrake in seconds by choosing a profile optimized for your device, or choose a universal profile for standard or high-quality conversions. Simple, easy, fast. For those that want more choice, tweak many basic and advanced options to improve your encodes.
Hardware acceleration
Some GPUs or APUs contain SIP blocks dedicated to doing calculations for video encoding (e.g., Quick Sync Video or Video Coding Engine). Such solutions are limited to very few video codecs. When used, they are very fast but don't necessarily match the quality of good software encoders.
Transcoding
Users are able to customize the output by altering the bit rate, maximum file size or bit rate and sample rate via "constant quality". HandBrake also supports deinterlacing, decombing, scaling, detelecine, and cropping (both automatic and manual).
Batch
It supports batch encoding through the graphical user interface (GUI) and command-line interface (CLI). Third-party scripts and UIs exist specifically for this purpose, such as HandBrake Batch Encoder, VideoScripts, and Batch HandBrake. All make use of the CLI to enable queueing of several files in a single directory.
Sources
Handbrake transcodes video and audio from nearly any format to a handful of modern ones, but it does not defeat or circumvent copy protection. One form of input is DVD-Video stored on a DVD, in an ISO image of a DVD, or on any data storage device as a VIDEO_TS folder. HandBrake's developers removed libdvdcss (the open-source library responsible for unscrambling DVDs encrypted with the Content Scramble System (CSS)) from the application in version 0.9.2. Removal of digital rights management (DRM) from DVDs using HandBrake was possible by installing VLC, a media player application that includes the libdvdcss library. Currently, Handbrake can remove DRM only after the user installs the latest version of libdvdcss.
As with DVDs, HandBrake does not directly support the decryption of Blu-ray Discs. However, HandBrake video converter can be used to transcode a Blu-ray Disc if DRM is first removed using a third-party application, such as MakeMKV. Unlike HandBrake, MakeMKV does not transcode; it removes the digital rights management from a Blu-ray Disc and creates an exact copy, at its original frame size and data rate, in a Matroska (MKV) multimedia container which can then be used as a source in HandBrake.
Other Features
Title / Chapter selection
Queue up multiple encodes
Chapter Markers
Subtitles (VobSub, Closed Captions CEA-608, SSA, SRT)
Constant Quality or Average Bitrate Video Encoding
Support for VFR, CFR, and VFR
Video Filters: Deinterlacing, Decomb, Detelecine, Deblock, Grayscale, Cropping and scaling
Live Video Preview
Outputs
File Containers: MP4(.M4V) and.MKV
Video Encoders: H.264(x264), MPEG-4 and MPEG-2 (libav), and Theora (libtheora)
Audio Encoders: AAC, CoreAudio AAC/HE-AAC (OS X Only), MP3, Flac, AC3, or Vorbis
Audio Pass-thru: AC-3, DTS, DTS-HD, AAC, and MP3 tracks
Requires: .Net Framework